SAN PASQUAL WINERY – OUR STORY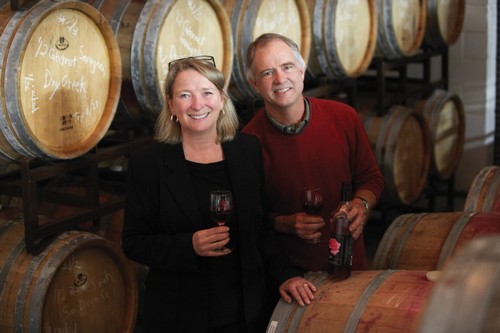 The Winery
San Pasqual Winery is a small, family owned winery located in La Mesa, California – about 15 miles east of San Diego. Although the namesake dates to the 1970's when it was located in the San Pasqual Valley, the winery was later "reinvented" as San Diego's first urban winery, earning it a spot on Sunset Magazine's list of "Hot 100 West Coast Trends." The winery is now located in the industrial area of La Mesa, with offsite tasting rooms nearby in the Village of La Mesa and downtown San Diego at Seaport Village. With annual production ranging from three to four thousand cases, most of our wine is sold directly from the winery and tasting room locations, allowing a more personal connection with the people who enjoy our wines.
Our Wines
San Pasqual wines are hand crafted in small lots using grapes sourced from local vineyards and renowned viticulture regions throughout California. Our diverse local microclimates and our relationships with vineyards elsewhere, afford access to a wide range of grape varietals. Although we produce wine from a core set of popular varietals each year including Chardonnay, Cabernet Franc, and Cabernet Sauvignon, we routinely offer our customers a chance to experience lesser known varietals such as Tannat and Teroldego. We also produce a line of unique passionfruit-based wines (including our habanero-inspired "Hot Passion"), that go perfectly with our San Diego climate. Our wines are consistent award winners at the local, state, and international levels, with our Tannat and Cabernet Franc earning double golds at the Toast of the Coast and San Francisco Chronicle competitions. Several years ago, our Malbec was selected to represent California style Malbecs in Cahors, France - the "home" of Malbec.
Our Locations
Each of our four locations are designed to offer a unique wine experience. Our production winery at La Mesa Wine Works is conveniently located just off Interstate 8 in the industrial area of La Mesa. The tasting room is open Wednesday through Sunday and we feature live music on our patio/crush pad and a rotation of local food vendors on weekends. The La Mesa Village venue offers a cozy wine bar experience where visitors quickly become friends, enjoying sidewalk seating and conversation with the owners most Friday afternoons. Our Seaport Village tasting room provides a gateway to San Diego Wine Country for vacationers and locals alike as they enjoy our wines overlooking San Diego Bay from our deck patio. We recently opened Toast Bubble Bar, just around the corner at Seaport Village, where we offer an elevated sparkling wine experience every weekend and a great venue for private parties or corporate events.
Our Owners
Originally from the Chicago area, owners Linda and Mike McWilliams attended college in northern California and then relocated to San Diego to complete graduate school. Linda began her professional career as a speech pathologist, serving in local school districts, and Mike was employed as an industrial psychologist working for several local businesses and the Dept. of Defense. Their formal venture into the wine industry began in 2009 when instead of opening a Champagne bar (their original "retirement" plan) they purchased San Pasqual Winery, then operating in a small industrial space near Pacific Beach. They each found their own niche, with Linda going "back to school" to earn her winemaking certificate from UC Davis and Mike supporting the business aspect. Shortly after purchasing the winery, they opened San Pasqual Tasting Room and Gallery in downtown La Mesa, which instantly became a community gathering spot. In 2013 they moved winery operations to a renovated warehouse in La Mesa's industrial area following a successful campaign to revise an outdated zoning statute that prohibited "fermentation" activities. Linda and Mike are active members of several local business and wine industry associations, with Linda serving terms as President, Vice-President and Education Chair for the San Diego County Vintners Association. She currently serves on the Board of Directors for the Wine Institute, representing the southern California region since 2016. In their spare time Linda and Mike enjoy train travel, getaways to Lake Tahoe and exploring other wine regions of California and Europe.
Affiliations
You know you want to!
Sign Up For Our Newsletter
Keep up to date on the latest wine releases, events, and promotions!